Dental Implants Near You
Our dental team always stays up-to-date with the best treatment modalities in the dental world to ensure our clients are offered the highest-quality, most affordable, and safest dental implant options possible. We offer dental implants in Winnipeg, which are considered the most reliable and efficient way to replace missing teeth. During their placement, your dentist will ensure the implant is fitted perfectly into the bone, where your tooth's root was formerly located. Once our team has successfully integrated the implant made of titanium into the bone, we can then proceed to attach a crown, bridge or even a denture to replace the missing tooth or teeth. Your dentist will always consult with you beforehand and answer any concerns or questions you have surrounding this life-changing procedure. With proper care and maintenance, we are confident that your dental implants will provide you with years of service. If you are looking for dental implants near you, we offer dental implants in Winnipeg.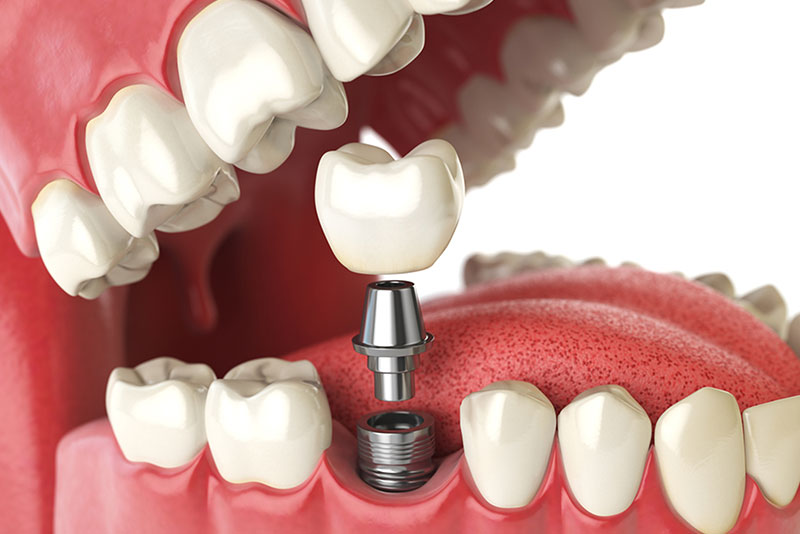 Why are Dental Implants the Best Solution?
Whatever your reason for losing your tooth or teeth, be it from infection, tooth decay or gum disease, our team will carefully assess your oral health to determine your suitability for a dental implant. Studies have shown implants are the most effective long-term option to replace missing teeth. Besides improved longevity, the fact that the teeth adjacent to the missing tooth do not have to be altered (as with a conventional bridge) is an added benefit. Additionally, dental implants won't fall out, slip, or slide in your mouth. You are free to smile, laugh and chew without the fear of embarrassment. Unlike dentures, your dental implants will also preserve the bone in your jaw by providing stimulation to the area affected by tooth loss.
Busy lifestyle?
We understand that our clients have busy days and demanding lifestyles, do not worry. With the advancements that have been made and the modern techniques our team uses, we can often have an implant placed and be fully functional, in one day. This eliminates the need for temporary dentures and unnecessary discomfort accompanied.
If you're interested in receiving dental implants near you, contact our office to schedule your free consultation! We are happy to provide dental implants in Winnipeg.